Short Bytes: In a new preview release, VLC has added support for 360-degree videos. Known as VLC 360, the preview is currently available for Windows and macOS. A VR-enabled version of the VLC media player will arrive for various VR headsets in 2017.
T
he free and open source media player 360° videos in its latest preview release. VLC 360 – made in collaboration with Giroptic – is available in desktop versions of the popular media player for Windows (7 and later) and MacOS (10.10 and later) operating systems.
The 360-degree video playback is enabled using Spatial spec. The preview release also adds support for 360-degree images and wide-angle panorama shots following the spherical spec.
Keyboard and mouse can be used to navigate within the 360-degree videos in VLC 360 desktop version because most of the machines running Windows and MacOS don't have the required sensors.
Android, iOS, Xbox users will have to wait for some time before the 360-degree features arrive for their device platforms.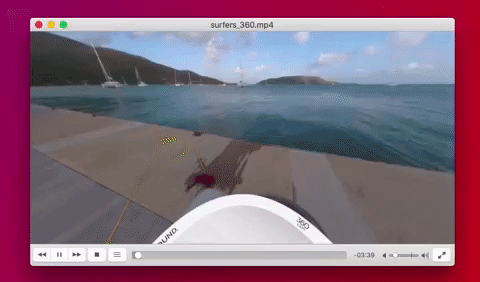 VLC-VR is coming
A VR (Virtual Reality) version of VLC media player is also in the works and will arrive in 2017. Dedicated apps will also be designed for different VR headsets like Google Daydream, HTC Vive, Oculus Rift, etc.
Download VLC 360
You can download VLC 360 for Windows and MacOS along with video samples by following this link.
If you have something to add, tell us in the comments below.
Also Read: Google's Lip Reading AI Defeats A Pro Human After Watching 5000 Hours of TV