Toyota Sienna will be a hybrid vehicle now, yes, you heard it right. Toyota's next-gen Sienna will likely join the line-up of hybrid vehicles from fall 2020.
We recently saw an image of Toyota's next-gen launch timeline posted on the Instagram handle 'Allcarnews.' According to the post, the information was leaked from a recent dealer conference.
The all-new next-gen Sienna hybrid is set to hit the roads in fall 2020. However, not much about the car has been revealed. At present, the minivan comes in three variants, all three powered by the same 3.5-liter V6 engine. The engine produces a maximum output of 296 HP with a peak torque of around 357 Nm.
It's also not clear which type of hybrid Sienna will launch, whether it'll be a hybrid, a plug-in hybrid, or both.
Toyota Sienna Hybrid Vehicle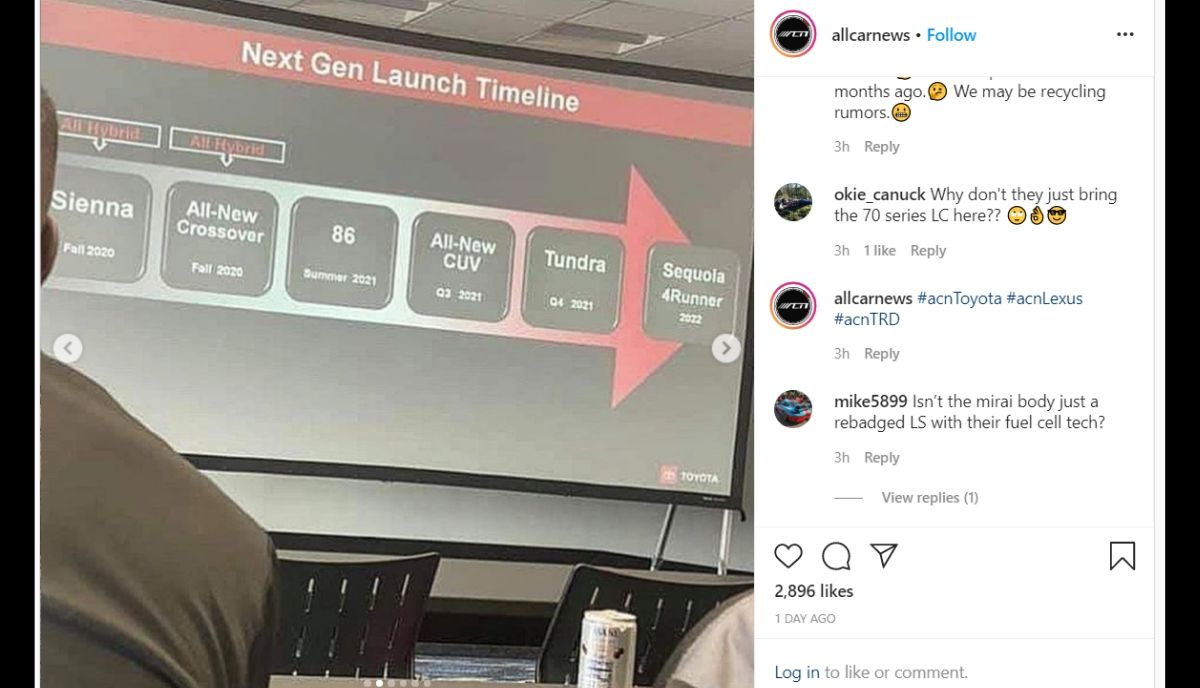 Engine
Most Toyota hybrid vehicles come with a 2.5-liter engine or an even smaller capacity engine with an electric motor.
Even the 2020 Avalon is powered by a 2.5-liter hybrid engine, which generally gets its power from the 3.5-liter V6 engine in other variants.
So considering past trends in the company, the Toyota Sienna may also have a 2.5-liter hybrid engine along with the conventional 3.5-liter V6 gasoline variant.
However, it entirely depends upon the company's strategy, and it might also be possible that the latest Sienna will come with a 3.5-liter hybrid engine.
Price
Since there is no official announcement from the company, we can only speculate on the price. If a 2.5-liter hybrid engine powers the new Sienna, then the price range of this Toyota will likely be $36,000-$39,000. However, the final price may vary based on the configuration.
Apart from the Toyota Sienna, if we believe the leaked images from the conference, then the Japanese automaker plans to launch another hybrid all-new crossover by the end of 2020.
There is a lot more to come, stay tuned for the latest news and do leave your suggestions in the comment section below.