German automaker Porsche introduced a new variant of its best-selling electric car Taycan at a significantly lower price for the U.S. market in the first month of 2021.
The price of the new base variant of the Porsche Taycan starts at $79,900 before federal taxes and other state incentives. After the incentives, the prices will be somewhere around $72,000 which is quite close to Tesla Model S.
Earlier, the base price of the premium electric sedan Taycan was well above $100,000. So what Porsche did to make its luxury electric car affordable for the masses?
What Porsche Did To Reduce Cost Of Taycan By $20,000?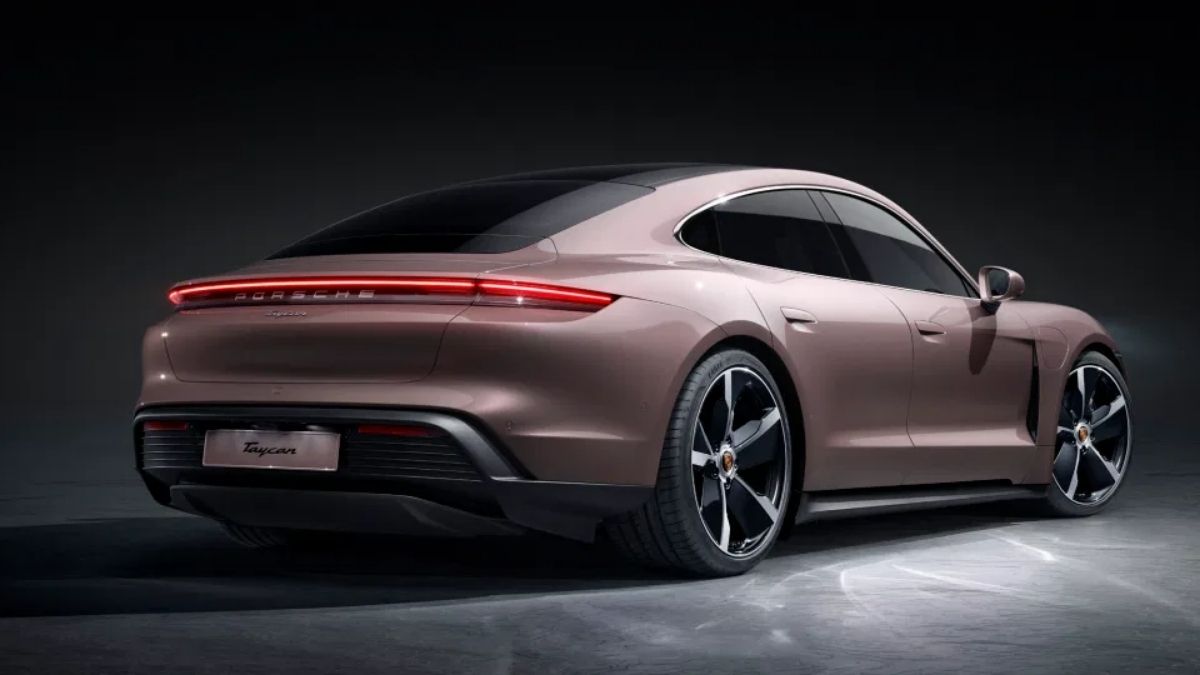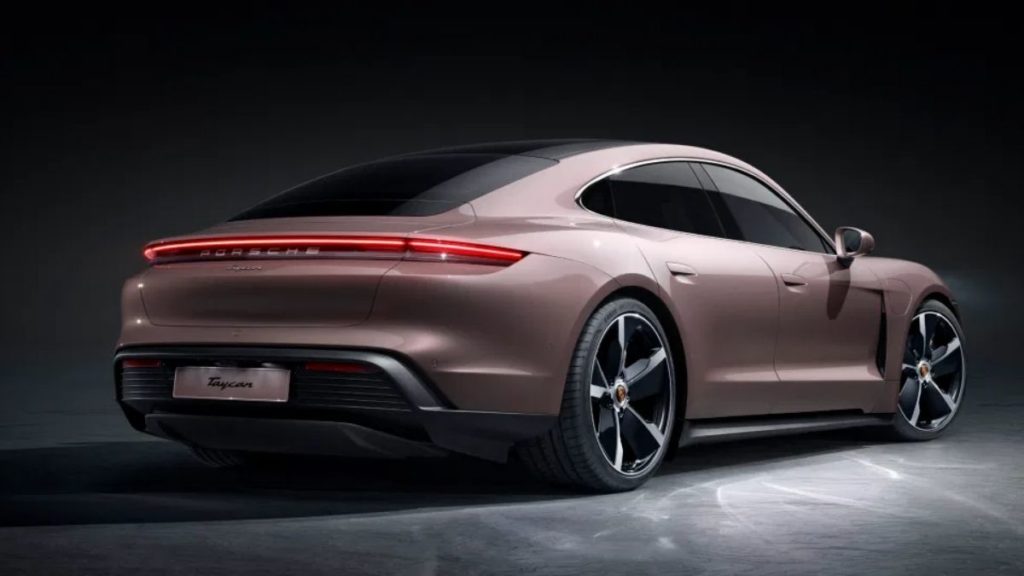 Formerly Porsche Taycan 4S used to be the entry variant with a price tag of around $103,800. Now with the new base variant, Taycan is cheaper by $23,900.
If a top-class automaker is slashing such a huge amount on the price of its best electric car then obviously there would be some variation in the specs.
This is exactly what Porsche did with Taycan. So basically there's one major factor that made Porsche Taycan affordable for the masses.
No Front Motor: The basic model of the Porsche Taycan does not have a front motor. This simply means that unlike other top-end variants of Taycan which are AWD, it'll be only an RWD model.
In addition, the removal of the front motor sheds almost 200lbs of total weight.
2021 Porsche Taycan Battery
The base variant comes equipped with a 79.2 kWh battery pack as standard. However, the automaker also provides an option for a bigger battery pack (Performance Battery Plus) with a 93.4 kWh battery capacity.
This Performance Battery Plus comes with a premium of $5,780. Hence, the price of the Porsche Taycan base model with Performance Battery Plus is $85,680.
Here's the full spec sheet for the 2021 Porsche Taycan.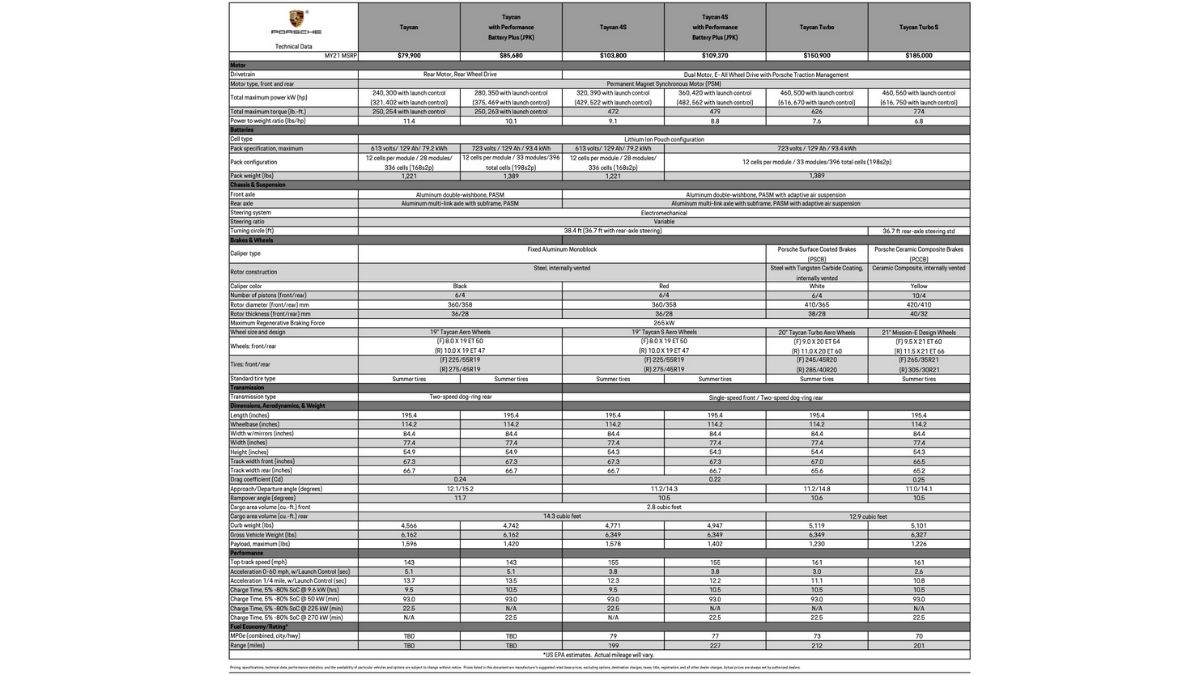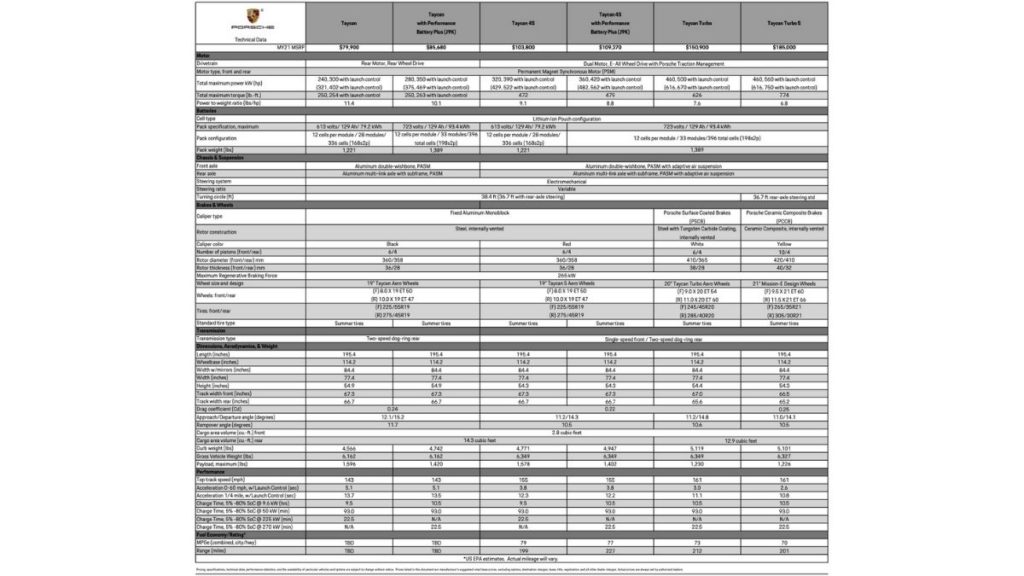 2021 Porsche Taycan Fast Charging
Like higher-priced models, the base variant also supports fast charging of up to 270 kW on compatible chargers.
However, the 79.2 kWh battery pack supports up to 225 kW only.
Interestingly, according to the automaker, both the battery size will take an equal amount of time (22.5 minutes) to charge from 5% to 80% when connected with a suitable high-speed DC charger.
It would take around 93 minutes to get charged from 5 to 80% using 50kW fast chargers.
Furthermore, using standard chargers of 9.3 kW at home will take about 10 hours to fully charge.
Different Wheels And Brake Calipers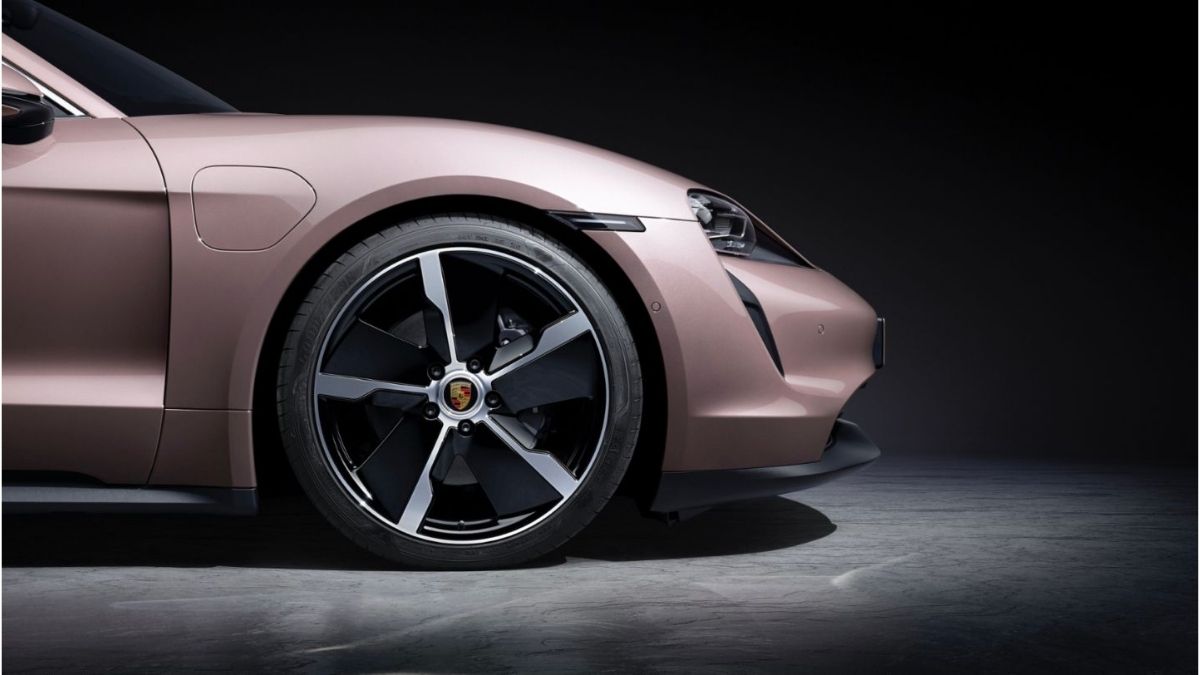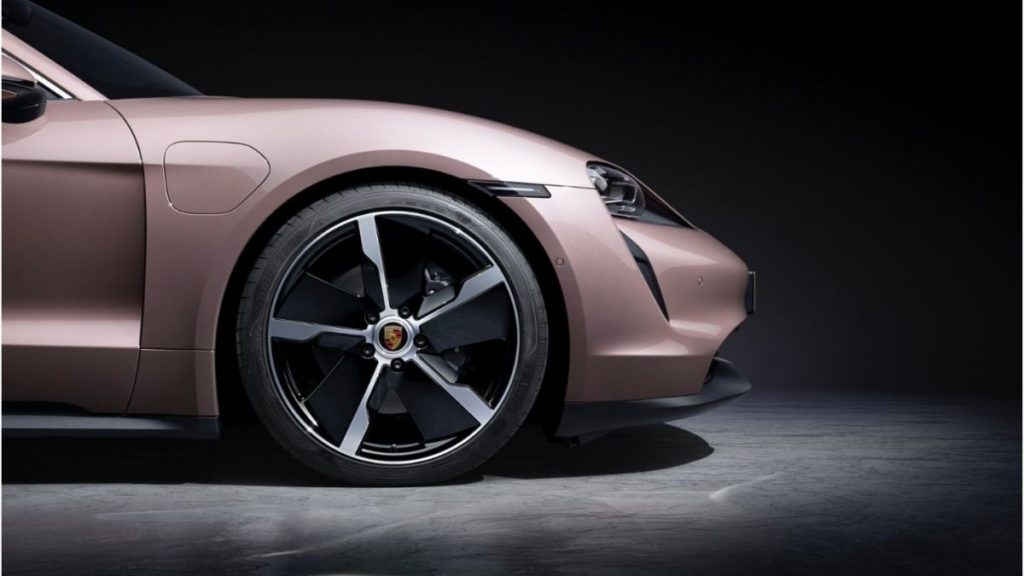 As standard, Porsche Taycan is equipped with 19-inch Taycan Aero wheels, six-piston front brakes, and four-piston rear brakes.
The same setup is used in Porsche Taycan 4S as well. However, different colors of brake calipers and wheels are used for different variants.
If we talk about the base model, it has black calipers and silver alloy wheels whereas the 4S has red calipers and polished alloy wheels with high gloss black spokes.
Similarly, other higher variants are equipped with ceramic coated brakes along with bigger 20″ or 21″ wheels.
Electric Range of Porsche Without Front Motors
One of the most important factors that users want to know about any electric vehicle is its range.
According to a press release, Taycan, with a smaller battery, provides a WLTP electric range of 267 miles, whereas the bigger battery pack boosts up the range to 300 miles (WLTP).
What do you guys think? Is it good enough to create hurdles for Tesla Model S?
Drop your views in the comments section below.