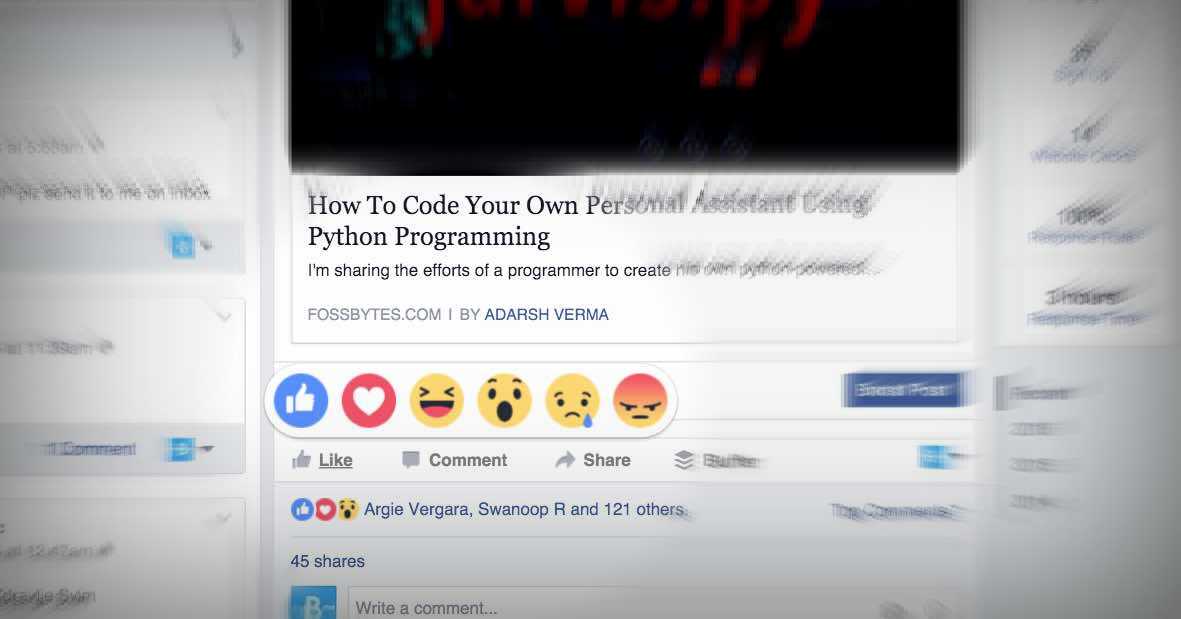 Short Bytes: In response to Facebook Reactions, people have responded with their sarcastic tweets on Twitter. Here's the compilation of 17 funniest reactions to Facebook's new reaction buttons.
F
acebook has just introduced the six new reaction buttons that will allow you to respond to your friends' status updates, pictures, and rants in five additional ways. Expanding the one dimensional like button, Facebook has brought some more friends in the form of love, haha, wow, sad, and angry.
However, not everyone was equally excited about these buttons. Of course, many people reacted with sarcastic tweets — yes, Facebook forgot to add the sarcasm button.
Here are some of the best reactions to Facebook's new reaction buttons:
https://twitter.com/katiemcvay/status/702560963728445441?ref_src=twsrc%5Etfw
I would react to the Facebook reaction buttons but there's no eye roll reaction button.

— Kendra Alvey 👻 (@Kendragarden) February 24, 2016
Our reaction to Facebook reactions. pic.twitter.com/RXEomc8dkK

— Monstercat (@Monstercat) February 25, 2016
https://twitter.com/theandrearomano/status/702505889849286657?ref_src=twsrc%5Etfw
It's too late, Facebook. I am no longer capable of feeling emotions other than "like."

— peterkirn (@peterkirn) February 24, 2016
"This is racist" and other Facebook reactions you really need: https://t.co/DycPwjI3jn pic.twitter.com/aSUvZh4oRN

— Motherboard (@motherboard) February 25, 2016
Kudos to Facebook for realizing that deep human conversations can't happen if people only have one way to react to things. They need six.

— Matt Nedostup (@nedostup) February 24, 2016
I've had the new Facebook reactions for 20 minutes and I already accidentally "wow"ed the status of someone I haven't talked to in 10 years

— Megan Hess (@mhess4) February 24, 2016
.@hunterschwarz If Facebook reactions were Trumps instead of Emoji: pic.twitter.com/V6h8yw49S7

— Laz (@lazaro) February 25, 2016
Gonna try to get all 6 new reactions with 1 Facebook status. Thinking: "my dog died just as I was teaching her to be racist."

— J.P. McDade (@jp_mcdade) February 24, 2016
Wonderful news. Facebook finally added "reactions." You no longer have to "like" it when someone dies!

— jacksfilms (@jacksfilms) February 24, 2016
https://twitter.com/morninggloria/status/702585145946193920?ref_src=twsrc%5Etfw
What those new Facebook reaction buttons really mean. pic.twitter.com/NVEoHG8SI7

— TechnicallyRon (@TechnicallyRon) February 24, 2016
Facebook adding emoji reactions also adds another thing I have to explain to my mom about Facebook.

— Chip Dwyer (@chipdwyer) February 24, 2016
https://twitter.com/alutkin/status/702521852007153665?ref_src=twsrc%5Etfw
If you like the new Facebook Reactions, you'll love Wave 2! #ComingSoon pic.twitter.com/VHCnUdOgnP

— @midnight (@midnight) February 24, 2016
Good thing that we have more Facebook Reactions so we don't have to focus on using pesky punctuation and a vocabulary

— Jonny Loquasto (@JQuasto) February 24, 2016
Share your reactions to new Facebook buttons in the comments below.