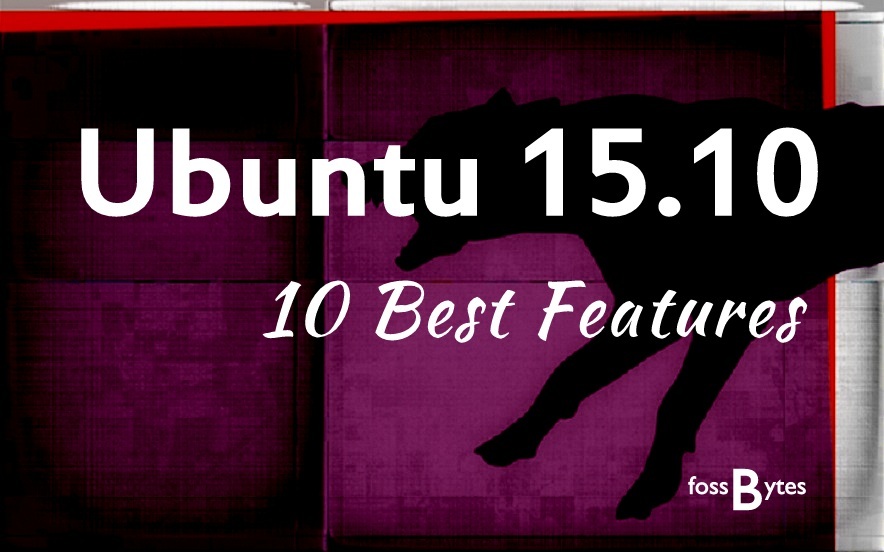 Short Bytes: Ubuntu 15.10 is now released by Canonical and available for download. Read this article, know the features of Ubuntu 15.10 and take your upgrade decision.
A
fter six months in development, Ubuntu 15.10 Wily Werewolf is released and available for download. You can either
download the ISO images
– or upgrade your existing Ubuntu 15.04 running system.
In this article, we are here to tell you the 10 best features of Ubuntu 15.10 Wily Werewolf. Let's take a look:
1. Linux Kernel 4.2
The Ubuntu 15.10 is based on the kernel version 4.2, which was released in the August end.
Among the major improvements in Linux 4.2, there is new AMD GPU kernel driver support, new ARM development board support, NV-DIMM support, F2FS file-system encryption support and more.
2. Unity 7.3.3 Default Desktop Shell Unity
Ubuntu's default desktop shell Unity has been given small fixes and improvements in 15.10. It offers a preview of Unity 8, Canonical's next-gen user interface. One of the major noticeable change is Ubuntu leaving behind the Unity's overlay scrollbars.
Now you can drag and drop apps from Unity Dash to the desktop, session exit button now have a click effect, page up/down keyboard navigation works like a scroll in the Dash, and many other minor improvements.
3. Ubuntu Make
Ubuntu Make is a command line utility that allows easier installation of popular developer tools. Now it supports even more platforms, services and frameworks, and a complete Android development environment.
4. OpenStack 2014 2.0
The Ubuntu 15.10 comes with the OpenStack 2014 2.0 which is codenamed Liberty. This open source software for creating private and public clouds is now in sync with the Ubuntu development cycle.
5. Stateless Persistent Network Interface Names
The latest Linux Ubuntu 15.10 distro comes with stateless persistent network interface names. This means that naming the network interface with more comprehensive names is now possible and they'll remain valid even after a restart or change in hardware.
6. GNOME 3.16
With the Ubuntu 15.10, there comes the upgraded GNOME 3.16.x and the most of the GNOME 3.16 applications have been now added. This could also be upgraded to GNOME 3.18. The MATE desktop used by the Ubuntu MATE is now version 1.10.
7. LXD Container Technology
LXD for containers was debuted in Ubuntu 15.04, but is now production ready and comes with more capabilities like those of a virtual machine. According to Canonical, now you have the ability to take snapshot images and live container migration.
8. Steam Controller Support
The Ubuntu 15.10 has native Steam Controller support out of the box and the gamers don't need any tweaks or modifications.
All you need to do is install Steam using the Ubuntu package in the software center and plugin you new controller.
9. GCC 5 and Python 3.x Support
Ubuntu 15.10 has arrived with GCC 5 and Python 3.x support. Developers will have to wait for Ubuntu 16.04 LTS, that will makes Python 3.x default.
10. Updated Apps:
LibreOffice 5
Firefox 41
Chromium 45
Nautilus (aka 'Files') 3.14.2
Totem (aka 'Videos') 3.16
Rhythmbox 3.2.1
Empathy 3.12.10
Shotwell 0.22
Ubuntu 15.10 also comes with new default wallpaper and security patches.
Did you like these features of Ubuntu 15.10? Tell us in the comments below.
Get Linux Learner Bundle Here.