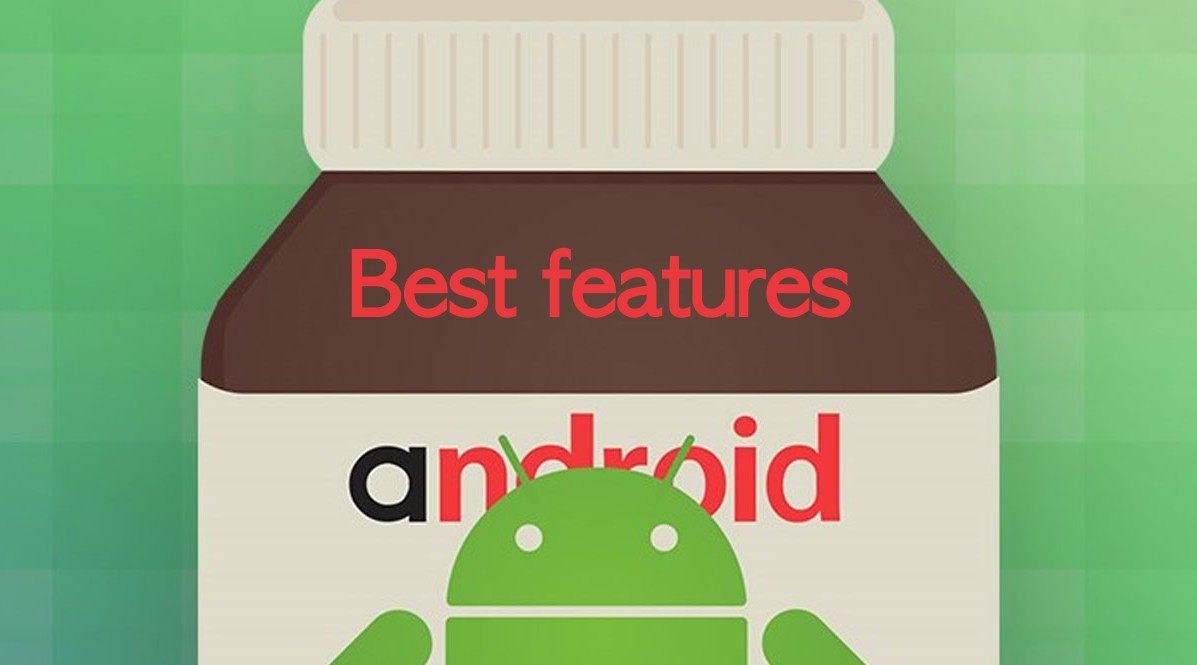 Short Bytes: Android N features are said to be creating the biggest change in recent Android history. Google has also hinted that Android 7.0 could also be finally named Android Nutella. While some say Android N features have been motivated by the iOS 9.0 features, others call it Windows 10-inspired as well. Well, taking a sneak preview from Android N Developer Preview, we will dig deeper into it and find out the truth.
A
ndroid N is the next iteration of Android that will be coming with the most sought-after features. Though Android N is still under development, however, we can still anticipate some of the best Android N feature taking at a sneak preview at the
Android N Developer's preview
recently released by Google.
Some are terming the upcoming new Android N features as a follow-up of the best iOS 9.0 features. Well, we will take a quick look at those and we will also see how Android N's upcoming features vary from iOS features as well. So, here are some of the new Android N features:
1. Multi-Windows Support: The Best Android N features
Android N is going to introduce the much-requested multitasking feature into the platform — multi-window support. Multi-windows support might mimic split-screen view of iOS 9.0. Using Multi-Windows support,
A user can run two apps side-by-side on phones and tablets running Android N. In the war of superiority in Android N vs iOS 9.0, this new and the best Android feature, outruns iOS 9.0.
While Apple restricts using two different apps to a fixed screen size like one-third (in split view mode) and one-half (in Split-screen mode), Android N, on the other hand, lets users resize the apps by dragging the divider between them.
On top of that, on Android TV devices, different apps can be put themselves in picture-in-picture mode, allowing them to continue showing content while the user browses or interacts with other apps.

 On devices with a larger screen, especially on tablets and other larger-screen devices, multi-window support gives users a freedom of multi-tasking.
An Android N user can even enable drag-and-drop in his apps.
When we talk more about iOS 9.0 vs Android N, iOS 9.0 does not give you a virtual freedom to configure split-screen view on all the apps whereas Android N lets you configure your app as how it handles multi-window display.
For example, in Multi-Windows support in Android N, you can specify your activity's minimum allowable dimensions. This prevents users from resizing the activity below that size. Even you can also disable multi-window display for your app, which ensures that the system will only show your app in full-screen mode.
2. Notification Enhancements: The Smart Android N features
By swiping and dragging down the notification alerts in Android, we often built an urge to reply then and there instead of tapping and going to an app like a WhatsApp chat notification. And this time, Google has come cleaner on this with Notification Enhancements.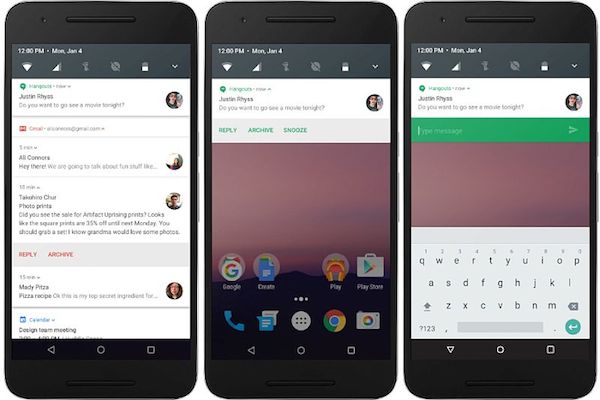 Avatar and Images: In the notifications enhancement, Google has integrated avatar and Images so that you can see who has sent you an email or a chat message.
Bundled Notifications: Just like tagging in Gmail, you can also bundle your chats and messages based on a tag or a topic. The bundled notifications feature of Android N lets you archive the entire mail or chat in one go as you can see in the image above.
Direct reply: Now you do not need to tap in the notification alert and go to the app to reply a chat, you can directly reply a mail or a chat from the notification window itself.
Custom views:  The custom views in Android N lets you decorate your notification style in your own way.
3. Quick Settings: The handy Android N features
Quick Settings lets you define your key settings and actions directly from the notification shade. This new Android N feature has enhanced the scope of Quick Settings to make it even more useful and convenient.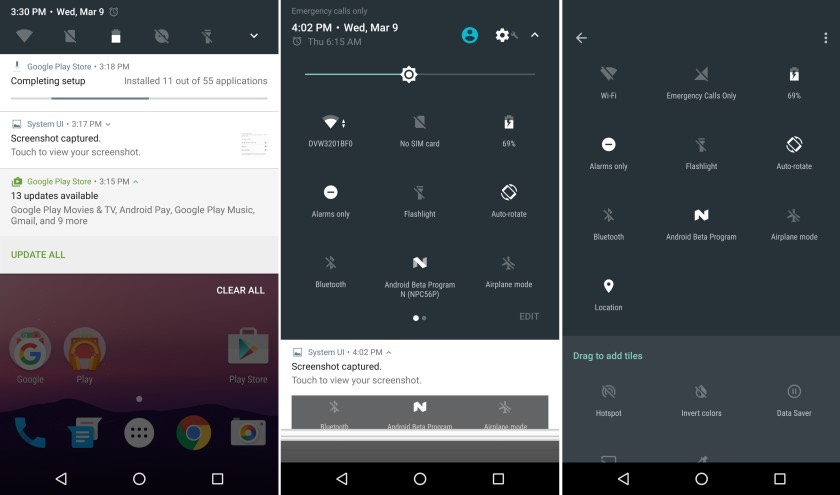 Pagination: Google has paginated the Quick Settings tiles which can be accessed by swiping left or right. Even Google has given freedom to add or move tiles just by dragging and dropping them.
From the developers' point of view, Quick Settings can be used by developers to add tiles for the apps that are either urgently required or frequently used.
4. Data Saver: A Hybrid Child of iOS Background App Refresh and Windows 10 Metered connection
Google has wisely made use of iOS background app refresh and Microsoft Windows 10 metered connection to restrict the data usage by the Android apps in the background as well as the foreground.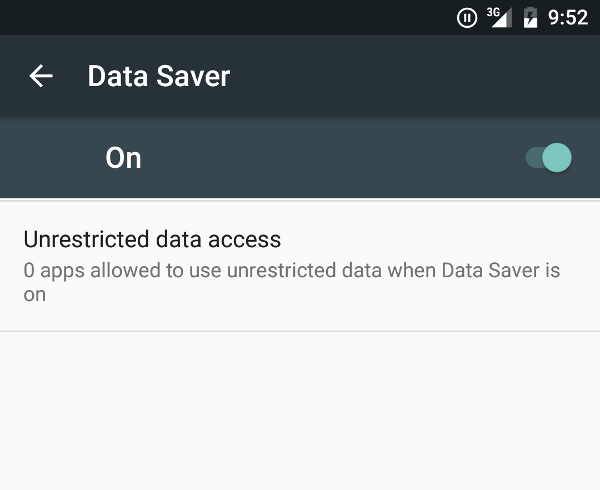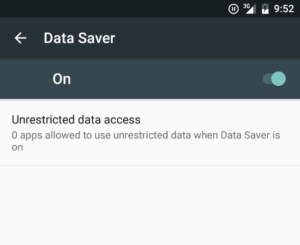 Android N Data saver feature takes cues from iOS background App refresh in terms of the Android apps in the background restricting the background data usage by the apps in the background.
On the other hand, Android N takes cues from Windows 10 metered connection to restrict data usage by the Android apps in the foreground by limiting bit rate for streaming, reducing image quality, deferring optimistic pre-caching, and so on.
It should be noted that most of the battery are consumed by the cellular data plan and battery consumption increases when we are on roaming. So, in the settings, a user can turn on Data saver to save battery life on Android.
Apart from this best Android N features, there are other significant feature enhancements on Android N. Keep on reading for them.
4. Localization of Android
Just like Ubuntu or free open source operating systems, Android will also support language localization. You can directly relate localization with old Nokia basic mobile phones which supported a lot of local languages. Localization in Android will surely enhance the bilingual experience of the mobile users.
5. Android TV recording in Android N
Android N adds the ability to record and playback content from Android TV. This features can be used via new recording APIs.
6. Android Accessibility enhancements:
Well, if you do not know, then you should know that some of the apps which have visual and audial interactions with the mobile users who are visually impaired or deaf, must comply with certain rules. Developers have a hard time complying with such rules.
With Android N new features, a user will be offered Vision Settings directly on the welcome screen for new device setup. This makes it much easier for users to configure accessibility features like magnification gesture, font size, display size, and TalkBack.
7. Call screening feature in Android N
Android N allows the default phone app to screen incoming calls. Some the call screening features are:
Reject the incoming call
Do not allow the call to the call log
Do not show the user a notification for the call
8. Number blocking
On the other hand, Number blocking features are:
Numbers blocked on calls are also blocked on texts
Blocked numbers can persist across resets and devices through the Backup & Restore feature
Multiple apps can use the same blocked numbers list
9. Key attestation in Android N
Hardware-backed key stores provide a much safer method to create, store, and use cryptographic keys on Android devices. They protect keys from the Linux kernel, potential Android vulnerabilities, and extraction from rooted devices.
10. Network Security Config
Android N gives you the freedom to customize the behavior of their secure (HTTPS, TLS) connections safely, without any code modification. On the development side, this Android N feature is going to support the developers a lot especially in the VOIP, SIP, RTP/RTCP setups.
Some of the supported features of Network Security Config are:
Custom trust anchors. Lets an application customize which Certificate Authorities (CA) are trusted for its secure connections. For example, trusting particular self-signed certificates or a restricted set of public CAs.
Debug-only overrides. Lets an application developer safely debug secure connections of their application without added risk to the installed base.
Cleartext traffic opt-out. Lets an application protect itself from an accidental usage of cleartext traffic.
Certificate pinning. An advanced feature that lets an application limit which server keys are trusted for secure connections.
While Google hasn't revealed the final name of Android N, Google has hinted that it could be Android Nutella. If you are betting on some other name like Android Nougat or Android Naankhatai, do tell us in the comments below.
Also read: Google CEO Open To Naming Android N After An Indian Dessert, Will Ask Mom